More screenshots of Windows 10 for phones pop up, hint at several new features
25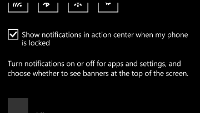 With every day that passes we are getting closer and closer to the release of Windows 10 for phones, a software refreshment that is quite anticipated by those admiring Microsoft's work. We've already have a pretty clear understanding of what some of the more notable features will be, not to mention that we've saw
a surplus of
screenshots
from the upcoming Windows.
Guess what, we have a new host of screenshots from the upcoming version of the OS that are showing us even more aspects of the interface. What's more, we seem to be hinted at some new features. For example, certain devices (Lumia 730, Lumia 735 and Lumia 930) will be able to utilize the on-board LED light.
It also seems that you'd be able to remove your existing Microsoft account without resetting the phone to default factory settings, much like Android and iOS function.You'd also be able to import and export your contacts to and from the SIM card. Some of the icons have received some love as well.

Take a look at the screenshots right below.