More leaked schematics for the Galaxy S7 show us a gargantuan Galaxy S7 Plus model
46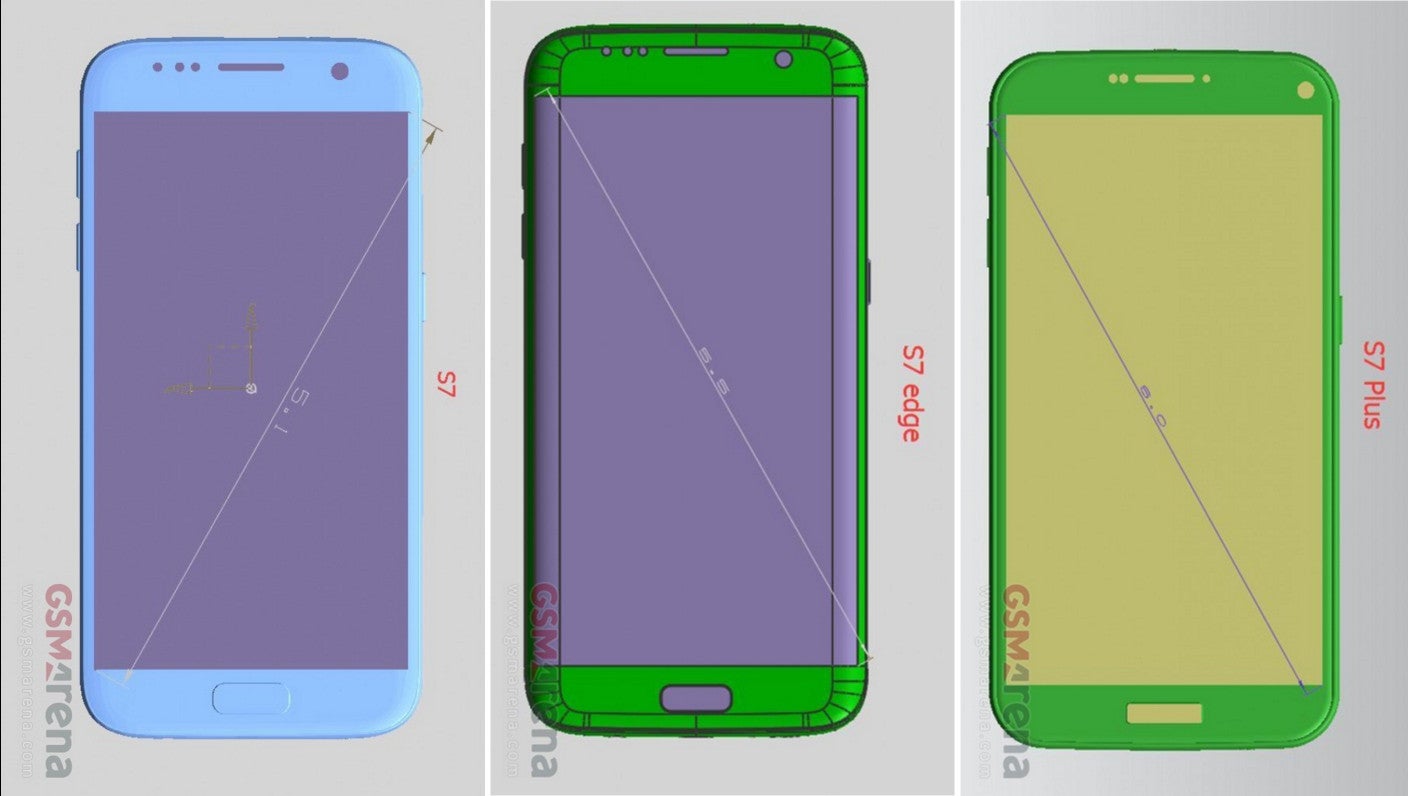 Just a few hours ago,
an alleged leaked schematic
revealed to us the form and size factor of Samsung's upcoming duo of flagship smartphones – the
Galaxy S7
and
Galaxy S7 edge
. Rumors have been flying about, claiming that the regular S7 will sport a 5.2-inch display, while the Edge variant would
only be available
in a large, 5.5-inch size. The aforementioned schematic confirmed said rumors, showing us a Galaxy S7 with a similar body to that of the
S6
, but with a much more generous screen-to-body ratio, which could be the reason for the 0.1-inch increase in display diagonal. Next to it, we have the slightly larger Galaxy S7 edge.
Now, another source has leaked a similar schematic. Reportedly coming from case-maker ITSKINS, the pictures depict a Galaxy S7 with a 5.1-inch display, an S7 edge with a 5.5-inch one, and a Galaxy S7 Plus with a ginormous 6-inch screen.
So, a slight conflict here with the previous leaks, as the Galaxy S7's display diagonal got knocked down back to 5.1 inches. However, we do get a re-affirmation of a rumor that we first heard in the beginning of December. Serial leakster @evleaks posted what seems to be
the full lineup
of upcoming Galaxy S7 handsets and the list consisted of a Galaxy S7, S7 Edge, S7 Edge Plus, and Galaxy S7 plus.
What's going on here, one may wonder. Is Samsung really about to launch four different top-tier handsets, two of which would just be inflated versions of the "regular-sized" models? Didn't the
Galaxy S6
and
S6 edge
cannibalize each other? Or, is it just a case of too many leaksters pulling our proverbial leg? Interestingly, just a few days ago, a report from an alleged Samsung insider claimed that the company will be
focusing on budget smartphones
in 2016, and has planned for a probable drop in shipped devices throughout next year. What we are seeing from these latest rumors — a possible production of 4 very similar high-end smartphones — seems to clash with such plans. Last, but certainly not least – what would the existence of two different S7 phablets mean for the future of the Galaxy Note line?
Well, hopefully, we will start getting answers to those questions in the next couple of months. The new Galaxy S7 line is supposedly going to be announced in February, with a possible launch in the same month, as per various rumors out there.
Recommended Stories