More images allegedly from the Samsung Galaxy S IV camera get posted online
39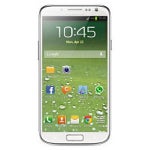 what allegedly was a picture taken with the camera for the Samsung Galaxy S IV
. Now, a couple of new photographs have appeared on Picasa that could very well have been snapped using Samsung's
next flagship
Android phone. The two photos are certainly not going to win a prize for artistry as they both show the back of a desktop computer tower.
The EXIF data show that the device used to take the photos was the
Samsung GT-I9505
which sounds like the international version of the
Samsung Galaxy S IV
. The data also show that the resolution on the newer pictures is 2322 x 4128 which does show that a 13MP camera could have been used. We should point out that EXIF data can be faked. The Picasa account is under the name of Su Ya and the subject of the pictures says "Test," which would make sense if these are indeed pictures taken while testing the camera on the phone.
As we alluded to earlier, the quality of the pictures is not good, to say the least, but even if the shots are from a Samsung Galaxy S IV, it certainly wouldn't be the final version yet and some tuning up of the camera sensor still could be on Sammy's "Things-to-do list".
source:
Picasa
via
RedmondPie