More details leak about "Action Center" with Windows Phone 8.1 notification space
29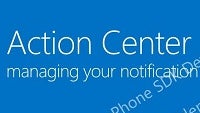 We have seen a bit about centralized notifications for the
upcoming Windows Phone 8.1 update
, but have not been filled in on how it will all work when in the hands of the user.
What little we have seen shows some of the quick-action functionality at work, but nothing when it comes to interaction with specific notifications. Since Microsoft is calling it the "Action Center," it would stand to reason we would be able to work some direction upon those notifications.
The latest batch of information to leak about the Action Center brings us closer to answering those questions. First it shows what users can do with a notification, and just as importantly, what developers can manage with notifications. What is left is us asking if these notifications are "actionable," meaning would we be able to take action from the notification itself to respond or interact in some way.
That said, we now know that each app can have up to 20 notifications and they will expire after 7 days (or shorter if desired by the developer). Users will be able to "chase" a notification, meaning tap it and it will take you into the app. Notifications can be removed individually, in groups, or en masse.
Developers will be able to manage notifications as well. Notifications can be tagged and grouped, or replaced as new ones come in. Expiration times can be set and a "ghost toast" feature too, meaning that the notification would appear only in the Action Center rather than having it appear as a toast notification at the top of the screen.
We are still a month away from the expected Windows Phone 8.1 announcement at //Build/ in San Francisco and so it is a virtual guarantee that the final product will be different from what we see here (for better or worse).
source:
Roman L.
(Twitter) via
WMPoweruser