More details around the Galaxy S6 Edge's screen and design emerge
24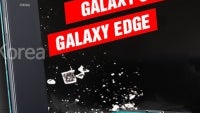 We've entered the final stretch, folks – less than a month from now, Samsung will take the stage at MWC 2015 and unveil its new products. We know that the Galaxy S6 is coming for sure, but until earlier today, the Galaxy S6 Edge's existence was a little less clear. What changed? It's simple – we caught wind of
a filing claiming the rights over the S6 Edge name in South Korea
.
So, now that we know with a high degree of certainty that a special model of the Galaxy S6 is on its way, we're squinting hard, looking for any other details around the edgy model. This paid off, for according to a piece by
SamMobile
, citing an unknown insider, the S6 Edge's screen will differ from the one on the Note Edge significantly in that it will be 30% to 50% flatter at the sides. The reason for this apparently has to do with the smaller size of the handset (compared with the Note Edge) and the placement of the power and volume buttons on the side.
In related news, Samsung is rumored to have taken a decision to outfit the S6 Edge with not one, but two side screens, and we're now told that both sides will have identical slopes. Obviously, like with the Note Edge, these two 'side screens' are, in reality, part of one monolithic display that is "simply" at the edges of the phone.
Lastly, we're also told that the camera sensor's outline on both the Galaxy S6 and S6 Edge will be painted in the same color as the body to avoid clashes. Speaking of colors, Samsung is said to be prepping
four distinct colors
for the Galaxy S6 (and likely the S6 Edge, too) – blue, green, beige, and white.