More data, plus tethering comes to AT&T's prepaid plans
17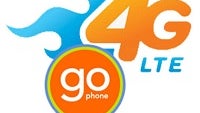 AT&T GoPhone prepaid service gets a little more data and features beginning April 25th. AT&T's prepaid rates are highly competitive considering what you do get for the money.
The $40 per-month GoPhone smartphone plan still comes with 500 minutes of talk time, but instead of 200MB of data, you get 500MB of data. The tier still includes unlimited text messaging, plus unlimited text messaging to Mexico, Canada, and another 100 countries.
AT&T's top tier GoPhone plan, which costs $60 per-month, gets an increase in data allowance from 2GB to 2.5GB, plus Wi-Fi hotspot capability enabled. The $60 plan still includes unlimited talk and text.
The new plans are already up and on display on AT&T's website. Existing customers get the new additions to their plans automatically. Unlike Verizon's ALLSET or Sprint Prepaid plans, AT&T GoPhone service allows LTE data speeds for devices that support it.
AT&T's new GoPhone features make a strong competitor to T-Mobile's prepaid plans. Team Magenta offers unlimited everything in its prepaid service, sans international texting or tethering for $70 per-month. There is also a $50 prepaid option with unlimited talk and text, plus 100MB of 4G data.
sources:
AT&T
via
The Verge