More Droid DNA details trickle down from HTC and others: battery life, microSD slot, camera samples
35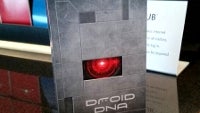 HTC took to Facebook to answer some pressing fan questions about the
Droid DNA
, camera samples appeared from a couple of hands-ons, and people in possession of the device clarified some issues like battery life, notification lights and so on.
To the numerous questions about the lack of a microSD card slot, HTC USA has posted on Facebook the following answer, which seems to have been subsequently pulled: "
HTC USA U.S. customers have easy access to cloud storage solutions through Verizon Wireless' 4G LTE network and ample access to Wi-Fi. This fact was balanced with the desire to make DROID DNA as slender as possible with an incredible 5-inch HD screen.
"
As for the battery life with the 2,020 mAh unit, users report more than 30 hours, as you can see from the screenshot in the slideshow below, but seemingly with light usage, and fell exponentially when the baseband radio was turned on. HTC itself replied to the concerns on Facebook: "
The DROID DNA comes equipped with a powerful 2,020 mAh lithium ion battery, energy efficient processor, and power saving software that enables long lasting endurance.
"
That "energy efficient" Snapdragon S4 Pro seems to be doing a fine job powering the handset, however, as it broke the 8,000 mark on Quadrant, and achieved 30fps on the offscreen Egypt 1080p graphics test.
The sample shots and video look fine outdoors, and the tie stand picture in the end of the slideshow below is taken with the front camera to demonstrate its wide-angle nature. As for the screen, it is found to be sufficiently bright outside, with a slightly warmer tones than the standard gamut measure: "...
the DNA's a little more red than the Nexus 4, whose whites are decidedly whiter. Both are better than the GNex.
"
There is a
second LED notification light
on the back, for those who were wondering what that dot on the rear was, and the loudspeaker is claimed to be strong and "
very good.
" Finally, HTC confirmed that the device will be only for the US now, and Verizon exclusive, but hope for subscribers outside of Big Red's circle of trust still exists, as
the device seemingly comes SIM-unlocked
.