More Android Lollipop apps leak - screenshots and .apks afloat
17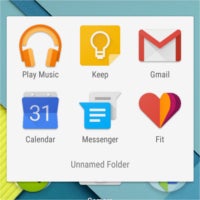 So, while we are waiting for Google's latest
Android 5.0 Lollipop
, there are probably very few features that inspire as much curiosity as the visual overhaul of the operating system. Google's new "Material Design" promises to take the recent trend of "flattening" various aspects of apps, and apply it to the extreme, creating a fresh visual style that, for some, may require some getting used to, while for others it's the most beautiful idea to date.
A few hours ago, we saw leaked images of what
the new Google Play Music
will look like (although, according to some, the app in the screenshots does not show full Material Design makeover yet), and now there's Messenger (the new SMS app, replacing Messages), Books, Calendar, Drive, Fit, Gmail, and Keep, added to the "leaked apps" roster.
The .apks have been made available by whoever extracted them, and anyone who feels adventurous enough can sideload them on a Nexus device (most require root), with Android 5.0 Developer Preview. The Messenger app has been reported to work for
Nexus 4
on Android 4.4 KitKat (without root), though that's more hit-and-miss, we'd presume.
If you don't have a Nexus device or don't wish to risk breaking something you shouldn't be messing with – feel free to gawk at the screenshots in the gallery below, instead.