More Android 4.4 KitKat and Google Nexus 5 info seeps through the leaked log
18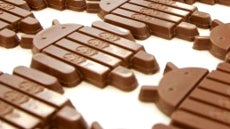 The leaked Android 4.4 KitKat log from a prototype
Nexus 5
keeps being analyzed, and some new info about the upcoming sweet tooth version has been extracted from it.
First off, most default apps are listed with newer versions than the ones currently in play on your Android device, with the biggest jumps going to the email (4.1 to 6.0), authenticator and clock applications.
The folks who are running through the thousands of code lines, also noticed that the stock app references have been reworded to indicate their separate publication on the Play Store, just like the browser and keyboard are now. Thus if you have a low-end Android that runs only the core well, you can pick and choose lighter satellite apps. In addition, there are notions of "Google Home" and "Theme" sprinkled throughout, which might indicate some sort of launcher management system will be set in motion come Android 4.4 KitKat.
As for the Nexus 5 itself, besides the return to USB OTG, there are references to
image stabilization
. These, however, are for both the rear and front cams, so don't pop the champagne just yet, despite the speculation that Google's handset is heavily based on the
LG G2
, which does have an OIS system inside.