Mophie's Juice Pack for the LG G4 brings 80% extra battery life
3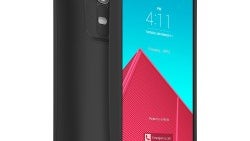 The recently-unveiled
LG G4
comes with a large-ish 3000mAh battery, but the latest LG flagship also comes with a set of power-hungry specs, with the 5.5-inch display with a resolution of 1440 by 2560 pixels and its hexa-core Qualcomm Snapdragon 808 chipset deserving a special mention in this context. If you're worried that the LG G4 won't make it through that two-day camping trip, or even through the day with hardcore usage of the smartphone, a third party accessory for the LG G4 tries to ease all of your worries.
The Mophie Juice Pack for the LG G4 comes with an external battery that can be used to seriously extend the battery life of the handset. This is the first power case that Mophie launches for an LG smartphone. The LG G4 Juice Pack comes with a 3450mAh external battery, which is actually more capacious than the battery inside the G4, and Mophie says that its Juice Pack can extend the battery life of the LG G4 by about 80%.
The manufacturer says that this 80% extra battery life translates in about nine ours of Internet use, 10 hours of video playback, or 15 hours of talk time. Besides offering extra battery life, the Mophie Juice Pack for the LG G4 will also protect the handset from damage thanks to its protective hard-shell case.
On the downside, all of this damage protection and extra battery life comes at the cost of what many will find to be a major increase in both size and weight. Mophie's power case will extend the dimensions of the LG G4 to 157.7 x 75.4 x 16.0mm while also adding 100 grams to the total weight. Furthermore, since the LG G4 comes with a removable battery, some could argue that a power case isn't actually the best way of extending the battery life of the LG G4, but at least the option is out there if you need it.
The Mophie Juice Pack for the LG G4 is currently available for
pre-order at a price of $99.95
, with a late-June estimated shipping date.