Monument Valley 2 review: a perfect visual experience, less so a game
3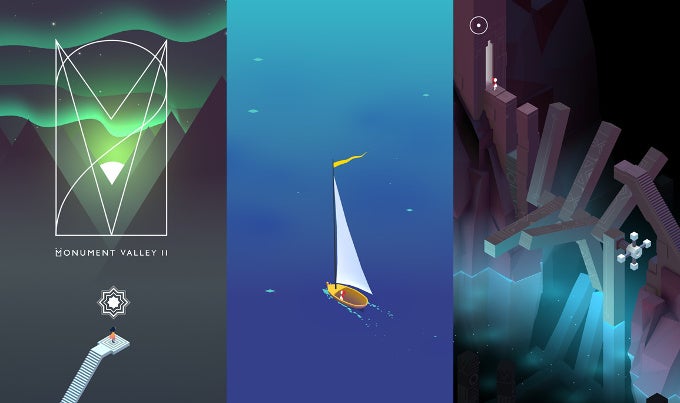 The original Monument Valley game launched in the middle of 2014, nearly three years ago, and since then it has been a benchmark for excellence in graphics and atmospheric story-telling. In our review,
we called Monument Valley "impossibly beautiful"
. Yet as popular as it was, it was by no means perfect: the original game was way too short, ending in just an hour and a half or less, and it never felt like a 'game' per se, lacking nearly completely the competitive aspect of gaming, but instead feeling more like a walk in a beautiful virtual garden.
MV2 boasts creative levels and a touching new story
Now, we have the sequel: Monument Valley 2. Priced at $5 on the Apple App Store (it is not yet available on Android and we don't know if and when it will be), the new game brings us back to this beautiful journey and story. This time around, however, many new games have appeared with a similarly serene scenes and engrossing mood, but adding a level of challenge that was missing in the original.
The new Monument Valley 2 thus has two difficult tasks to accomplish: first, keep the magic of the original, with its creative, artistic geometry levels, and second, improve the gameplay and make it more interesting, more challenging, more engaging.
A game with a story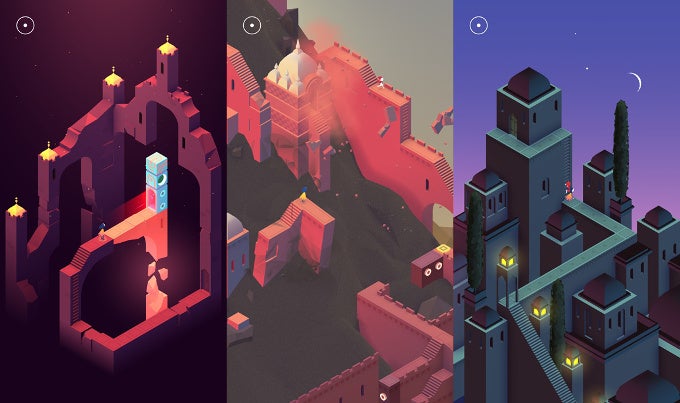 But first, let's start with the story because this game actually has one. The original Monument Valley did too, telling us about a princess trying to save her people, and it was an emotional and touching experience. This time around, we have a completely new narrative that focuses on motherhood: our heroine, mother Ro, goes through the motions of raising a daughter and then letting her go.
The eery, slightly nostalgic atmosphere is still here, and despite a few strange omissions (the daughter remains strangely nameless throughout the story), it is another memorable experience. Step by step, we are taken into Ro's world where she takes her daughter on her first steps in this virtual world, helping her overcome the first puzzles. At the end of each level, Ro reaches a shrine where you can draw a beautiful custom sigil.
The tragedy of distance, age, of letting go and ultimately - the human condition
Every few levels or so, you meet with a third figure, a ghost, a sort of a character that glues the story together: first, voicing all the mother's concerns about taking care of her kid, then going through the motions of letting go, all in a series of touching philosophical sayings. The gameplay illustrates this process beautifully: at first, the daughter follows your steps closely, then you have a level where it seems that the whole world is breaking apart and it is the mother's role to save her daughter, and then the painful act of letting go, illustrated beautifully with Ro's daughter sailing away on a ship, mother and daughter staring at each other while parting ways.
You also get to play as Ro's daughter, go through a series of memory simulating experiences that we have never seen in a game and a lot of extremely creative level design.
One intense feeling
Ultimately, Monument Valley 2 is a game about an
intense feeling
. It is the perfect representation of the quiet before a thunderstorm, the looming anticipation, the anxiety, the still drama, the unsaid. The game never withdraws its intense focus from the mother-daughter relationship. Like an alien object, it examines it from every possible angle: from the joy of a hug and the excitement of teaching your kid their first steps, to the moment you let them sail free in the metaphorical vast ocean of living, to the black and white world of loneliness that follows once you are separated, and then the hypnotic memory within memory within memory loop that the mind goes in, reminiscing about the past.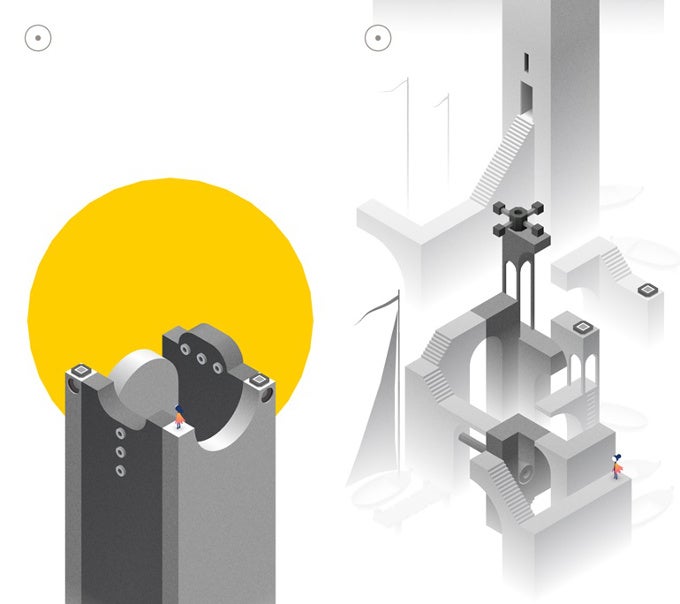 There are 14 levels in total: some shorter than others, but on average it takes around 15 to 20 minutes to go through a level, and if you want to finish it in a single run, it will take around 3 hours. This is definitely longer than the original, but we still would have wished having a few more levels.
It is the challenge, however, that is missing. This is not a huge downside, just a peculiarity of Monument Valley, a game that is more about the experience than about being a 'puzzler'. The game starts easy and picks up speed as you progress, but you never feel truly challenged and it never quite feels like a game per se, but it is more of a walk in a virtual world. Getting rid of excessive complexity allows the player to focus on the story and the visual experience which are hugely important in this game. For those looking for the game element, though, Monument Valley 2 might not be enough.
We're also happy that Monument Valley 2 is not a 'sell-out' game: it is not full of crappy ads that would ruin the experience. It's pure, just like the experience that it delivers. Yes, it costs $5, which might seem a bit on the steep side, but after playing the game we can definitely see how it's worth it.
Final thoughts
At the end of the day, Monument Valley 2 has perfected the visual style of the original game. It's deeper, more touching, more creative, more colorful, and it looks even prettier in its own eery, dystopian, dreamy way, but it still does not feel fully like a game. It feels more like an interactive novel where words are replaced with a beautiful amalgamation of metaphors and symbols: an impossible world that keeps on changing, a serene, pensive soundtrack and a few philosophical sentences to glue it all together very well.
If you like the original, you should not wait and get Monument Valley 2 right away. Even if you are not a fan of the series, we doubt you will regret spending $5 on this beautiful game. If, however, you are looking for more challenge, and a 'true puzzle' experience, you could also try:
We leave you with a behind-the-scenes video of the game that tells the inside story of Monument Valley 2.
| | |
| --- | --- |
| Developer: ustwo | Download: iOS |
| Genre: Puzzler | Price: $5 |
Pros
Beautiful, touching story
Creative level design
Engrossing visual experience
Unspoiled by ads
Cons
Puzzles are too easy, you never feel challenged
A bit too short
Monument Valley 2