Monsters from Asia: the $130 Leagoo Lead 7, with its 4,500 mAh battery, is one of the most inexpensive, spec'd out smartphones there is
32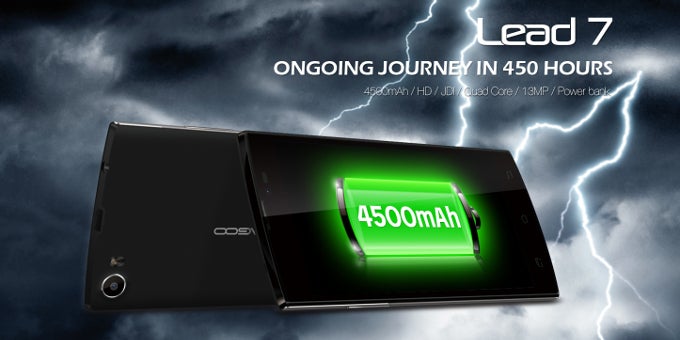 Increasingly, China-based smartphone manufacturers are winning ground previously held by mainstream makers, and if you're looking for a simple, one-word explanation for this, here it is: Price: And dirt-cheap prices, at that.
Indeed, Chinese smartphones' accompanying price tag is undeniably the single greatest reason people even buy into devices whose brand names they've never heard of before. And if you, too, were on a budget, and in need of an affordable phone that doesn't outright... blow, then the Leagoo Lead 7 that we'll be spotlighting today will absolutely catch your attention.
Simply put, this is one of the most spec'd out phones we know of for this kind of cash. To start off, it features a JDI-made (a co-venture by Sony, Toshiba, Hitachi), 5-inch IPS display with a 720 x 1280 pixel resolution (294 ppi), a quad-core processor clocked at 1.3GHz (likely the MediaTek MT6582), 1GB of RAM, and 8 gigs of internals storage which can be expanded with additional 32 gigs through a microSD card.
So far, so good, but we're not nearly finished, and neither was Leagoo when building the Lead 7. For all your shooting needs, the company has incorporated a 13-megapixel Sony camera at the back with f/2.2 aperture and 5P lens, though we can't be sure if this is the IMX214 that is available with high-end smartphones. Up at the front, you're also getting a great deal, for we're looking at an 8-megapixel snapper. But that's not all – Leagoo has also added an enormous, 4,500 mAh battery with quick charging (apparently 80% of it charges in about an hour), and that's without significantly impacting the handset's thinness – its measurements read 5.67 x 2.82 x 0.35 in (144 x 71.6 x 8.9 mm) and it weighs 5.64 oz (160 g) – a remarkable feat considering the price tag.
So what
is
the price tag? As you probably gleaned already, the Leagoo Lead 7 is available for $129.99 through multiple web stores, including
GearBest
, in both black and white colors. Ostensibly, the value proposition here is off the charts, and we sure hope Leagoo isn't intentionally misleading consumers.
What do you make of the Leagoo Lead 7?
Recommended Stories