Moleskine for Android to be a Galaxy Note exclusive
6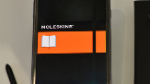 Not too long ago, we heard about a team-up between
Moleskine and Evernote
which would help to bring your notes from an old-school paper notebook to the digital world, but it looks like Moleskine wants to widen the market for its smartphone app as well by bringing it to Android. There has been a Moleskine app for iOS for a while, although it has had pretty bad reviews. The reboot, called Moleskine Journal, has also had mixed reviews, but the Android version is looking pretty nice.
The key for Android is that the Moleskine app has been designed with the Galaxy Note, and more importantly the S-Pen in mind. The Moleskine app will be exclusive to the Galaxy Note II and the Galaxy Note 10.1 for the first 6 months of its existence. The app will have all of the features that you'd expect with different pens, pencil, and brush options, colors, handwriting-to-text, and different styles for notebooks.
And, really, that's where Moleskine needs to make its mark. Moleskine has brand name recognition in the world of paper notebooks, but in the digital world, it has to compete with a bunch of other options.
Recommended Stories