Evernote and Moleskine join forces to make paper notebooks smarter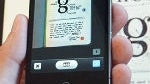 For many of us, the go-to digital notebook app is Evernote, which takes the prize because it is available on just about every major platform, not to mention its impressive feature list. Of course, some of us still like using old fashioned pen and paper, and serious note takers tend to go for Moleskine for paper notebooks. Now, the two have joined forces to bring the two worlds together.
The general idea is that the Evernote app can take pictures of Moleskine notebook pages and digitize it for you. In order to achieve this, Evernote and Moleskine have teamed up for a special edition Moleskine notebook. The app will automatically adjust the contrast of the scanned image, and straighten it as well. Then, of course, Evernote's handwriting recognition does its work to make your chicken-scratch searchable.
Beyond that, the notebook will have special Smart Stickers that you can add to pages before snapping the picture. The stickers will be recognized and automatically organize and tag the page based on your settings.
Sounds like a pretty interesting system all around. Unfortunately, the only Evernote app that works with the notebook is the iOS version, but since the notebook is still in pre-order, maybe the Android app will be updated before it is released. The Evernote Moleskine will be available October 1st in regular and large sizes at $25 and $30, respectively.
Recommended Stories