Molecular communications achieved, wireless network made of rubbing alcohol sends text message
8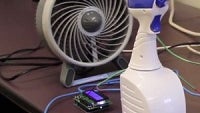 You read that right, researchers at the University of Warwick in the United Kingdom and at York University in Canada have been able to send a text message over a network that is based on molecular structure, rather than on electromagnetic radiation.
Is there a practical application in mind for such a system? Yes, especially in some industrial applications where traditional radio signaling is simply not reliable. Molecular methods may see wide use in underwater, underground, pipelines, and even the human body.
The signaling pattern used to transmit a text message via alcohol is based on alcohol concentration. All the signals are binary in nature, and the speed of transmission is very, very slow. The signals work however, and basically are not that different from how animals pick up on pheromones.
Based on alcohol density, the methodology is actually simple. On one end of the set-up is an alcohol spray, on the other end are a series of sensors that receive the message. On both ends are Arduino microcontrollers that encode and decode the message. There is a fan that helps the "signal" reach its destination from the sprayer.
The messages have been successfully transmitted a distance of four meters. When we said that the speed was slow, we meant it.
Try 0.2 bits per second slow
. 0.2bps is about one bit every five seconds. The text message, "O CANADA," took three minutes to transmit. However, speeds could be greatly increased through the use of other chemical compounds, and other detection methods.
Industrial applications are just the beginning too. Soon, we may be able to harness this technology that would enable direct communication and instruction to the cells and molecules in our own bodies. That would be quite a network. Check out the photos and video below.
source:
Extreme Tech