Modified BlackBerry 10 Dev Alpha phone heading to some developers
1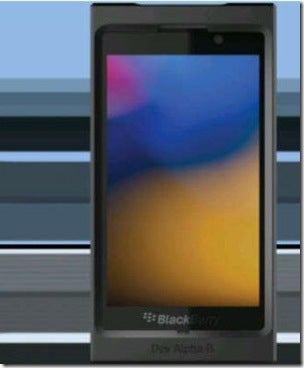 Rendering of the modified BlackBerry 10 Dev Alpha phone
Recently, some sharp-eyed BlackBerry fans noticed
a rendering of the BlackBerry 10 Dev Alpha phone
that looked a little different than the model that
has been handed out since May's BlackBerry World
. RIM has a history of making multiple versions of internal dev devices, so it might not have been surprising to see the rendering. RIM quickly pulled the image, but that didn't stop those who had seen it from questioning the Canadian based manufacturer about it.
One tweet from RIM says that there will be a "
minor hardware bump
" made to the Dev Alpha model in what it calls a "
normal part of any pre-release
program
." That was followed up with a question about cosmetic changes on the modified version of the BlackBerry 10 Dev Alpha phone. The tweeted response from RIM was pretty specific and stated that the
microSIM placement had changed
.
So we should be expecting a BlackBerry 10 Dev Alpha B device as RIM continues to court developers for its new BlackBerry 10 OS.
source:
BerryReview
Recommended Stories