Mobile gamers need this: 5 of the best controllers for Android and iPhone
4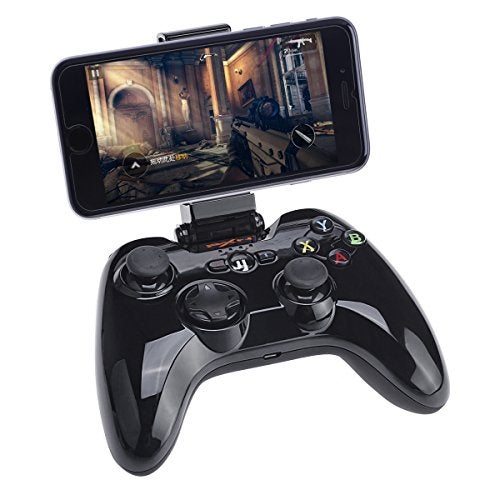 Gaming on a smartphone is usually a dissatisfactory ordeal. Sure, you can tap away all day long on those one-press style games, but a gamer's soul thirsts for action, timed inputs, dodging and attacking, as well as some strategy. For that last one, you've got a few games that you can play, sure — the touch inputs lend themselves well for those. But what about some good ol' shooting at the bad guys? Or beating an opponent's pixelized head into the pixelized pavement?
Well, you need a controller. And controllers there are aplenty — surprisingly, the market is overrun with these, which is probably the reason why manufacturers tend to back away from the niche as soon as they dip their toes in. But you need one that is good, or at least passable. Well, we took a dive and tried to fish out 5 controllers that have something special about them, which might suit your particular needs. Check them out!
Pyrus telescopic controller
This is a cheap but, apparently, a pretty solid product by Pyrus. Please note that while the box says it supports iOS, it really doesn't. It supports iCade, which is a different format than the fancy MFi, only supported by some emulators or arcade games.
With that out of the way, the Pyrus will snap directly on the sides of your phone, creating that Nintendo Switch feeling — no wonky phone clamps that make the controller top-heavy. Its buttons are reportedly solid and its D-Pad has nicely separated directions, which will favor fighting games better than those disc pads.
8Bitdo Zero
8Bitdo is dedicated to making retro-looking gamepad for your phone or tablet. They sure have plenty of products that are worth checking out, but for this pick, we decided to highlight the Zero. It's super-tiny, super-light and great for the on-the-go gamer. It says it supports iOS, but that means iCade only.
GameSir G4
A good-looking joypad with glowy lights and rubbery grips, it supports Android and Windows, though, you will have to play wired if you want to use it with your PC. Its buttons are solid, though do give off a click, and it even has press-able analog sticks for L3 and R3 controls — something that you don't see often on a mobile device controller.
Razer Serval
It's surprisingly hard to find the Serval on Razer's official website, as the Controllers section is now a dedicated Console-only section, and with this massive discount on Amazon we have to wonder if Razer is considering to pull out of the mobile accessory market (may be just temporary?).
In any case, it's a solid pad, true to the Razer name, and features a precise D-Pad, which fight gamers will appreciate.
Gamevice
Gamevice controllers are pretty solid, made for the dedicated gamer. They do have a couple of flaws, however. The fact that they are made to fit specific phone or tablet models means that you will have to shell out for a new controller with every new device you want to use. They also don't use Bluetooth, but connect to your phone via its Lightning or USB connector, which is a plus in terms of solid connectivity and a minus in terms of "how do I use my charging port now?".
Those concerns aside, it's a very solid product with a price tag that, unfortunately, shows this.