Mobile devices with high-speed, 4-gigabit LPDDR3 RAM are on the way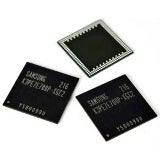 Samsung has made yet another breakthrough recently, and this time the news comes from its memory division. The company has announced that it has started production of new high-speed RAM modules for mobile devices. The LPDDR3 (stands for Low-Power Double Data Rate) modules will be based on the 20nm process and will be considered 4-gigabit, as they will be able to transmit data at up to 2133 megabits per second, per pin.
Samsung claims that this new RAM memory for mobile devices will be roughly as fast as memory used in desktop computers. What's more important for us, though, is that it's also supposed to be 20% more power efficient, compared to the previous generation of mobile RAM. The new modules will be sold in 2GB packages, each consisting of four chips. It's an interesting fact that the total height of these four chips will be just 0.8 mm! This new, faster RAM should appear in commercial devices as soon as this year.
via:
SammyHub