MoGo Talk XD Case & Bluetooth headset Hands-on
1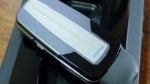 We all know the hassles that come with bringing along some sort of Bluetooth headset wherever you go with your mobile phone, but it's an undeniably painstaking process in figuring out where to store it. Needless to say that the first instinct to do is to place it in your pocket, but like other things we place into its deep bowels, there are some nasty baddies that can dirty your Bluetooth headset – plus not to mention the bulge it makes. That's where the MoGo Talk XD combination Bluetooth headset and case comes to mind as the two item solution for the iPhone 4 will conveniently end all of your woes with figuring out where to store your headset when it's not in use.
Easily the best thing about the MoGo Talk XD is that it'll completely protect your iPhone 4 since the case is constructed out of some rugged feeling polycarbonate plastic and molds well to the contours of the handset. Both the power button and volume rocker are still easily accessed seeing that the rubberized feel that covers them are distinguishable to the touch. Additionally, there are cutouts found around the bottom area of the smartphone to enable easy access to the proprietary charging port and speakers. And if you happen to find your handset to be experiencing any death grip issues, the case naturally will resolve any further issues seen from it.
Tucked squarely in the middle of the case is a sleek and streamlined Bluetooth headset that snugs perfectly into place – which essentially solves the problem of where to place it when it's not in use. When looking at its profile, it's almost unfathomable to know that it's even a Bluetooth headset when others are generally not as thin. Regardless, you basically swing open the earpiece portion which utilizes their exclusive SoundShape ear bud design and offers a decent natural feel as it it flexes and forms to for the contours of your ear. The packaging contains additional ear buds to cover an array of sizes, while still offering a level of comfort for long term usage. Finally, it even packs more than 15dBm of passive noise-cancellation to block out any of those unwanted background noises.
Not only does the case conveniently secures the Bluetooth headset in place, but it even acts as its charger. By connecting the case through the microUSB port found on it, you can have peace of mind knowing that the case and headset won't get lost. As for battery life, the manufacturer has it rated for 4 hours of talk and 300 hours of standby time. All in all, this $99 solution will definitely be appreciated by some iPhone 4 owners due mostly to the fact that its offers two distinct mobile accessories all into one item.
Recommended Stories