Mission successful - iOS 8 lands on 56% of Apple mobile devices
14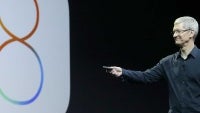 In Apple's newly outed iOS adoption numbers, we learn that iOS 8 has surpassed the 50% mark by conquering 56% of Apple's user base. The newly measured 56% share means the operating system has moved past that uncomfortable initial stage when the problematic iOS 8.0.1 update discouraged users from going with the times. The operating system's imposing footprint, which rendered 16GB iPhones with a disappointing amount of usable space post-upgrading, also posed a launch issue.
Anyway, it seems the majority of iPhone users have come to grips with iOS 8's evolution and are now rolling with it. iOS 7 still commands a considerable presence, accounting for a 40% install base, while the remaining little numbers are dedicated to older builds. Mobilesyrup speculates that the 10% increase in installs over a month was driven by Apple Pay and Continuity, which are attractive features that require iOS 8 to function.
Are you a late adopter of iOS 8 who just upgraded to Apple's latest software? What's your reason for holding up?