Kuo: LG is going to make OLED screens for Apple's 2018 iPhones
7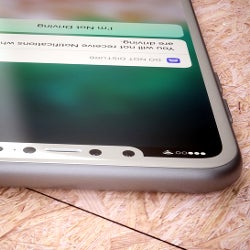 Industry sources have been tipping that
Apple might move to OLED for good
, and is looking to
diversify with LG
as a supply alternative to Samsung, fronting it no less than $2.7 billion as an advance payment for securing a production line dedicated entirely to iPhone displays, starting in 2019. Where there is smoke, there is fire, and now famed Apple analyst Ming-Chi Kuo from KGI Securities is confirming in his own turn that Apple is indeed working with LG on OLED panel supplies, and sooner.
The team from Cupertino is apparently "
committed to having LG Display geared up for its OLED iPhone display business in 2018
," according to Mr Kuo. He goes on explaining that LG Display isn't as versed as Samsung in OLED packaging, as it can mostly deliver the "front-end," likely meaning the panel itself, while it might be looking into collaboration with other partners for things like lamination, cabling and so on:
Samsung is now Apple's sole iPhone OLED panel supplier across front- and back-end manufacturing. We think LGD [LG Display] could institute a similar production model. However, considering its strengths are in front-end process, collaborating with a specialized back- end process provider like GIS will, in our view, significantly boost iPhone OLED panel output rate. GIS likely favored to team up with LGD in OLED for credentials in lamination, experience with MegaSite & advantages of vertical integration with Hon Hai.
Apple is said to have secured at least 45,000 units of mother glass for 6.5th-generation OLED panels a month from LG, which can be cut into quite a lot of iPhone displays. The rumored $2.7 billion investment by Apple is a win-win situation, as LG gets to offset some of the risks related to such a huge capital outlay. Apple, in its turn, gets to diversify supply, and ensure a steady stream of OLED panels that apparently are a big part of its vision for the future of iPhones.