Minecraft for Gear VR priced $6.99, Samsung working on a standalone virtual reality device
3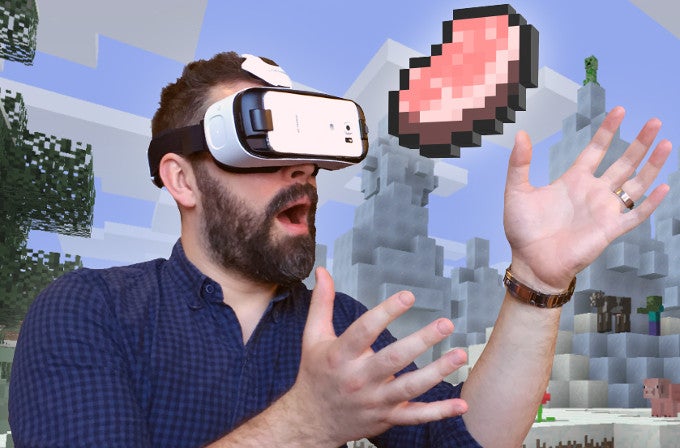 Minecraft
has been one unrelenting success for Microsoft ever since the team from Redmond acquired the game franchise. Back at the GDC 2016 expo, Microsoft and Oculus announced that they are working on a Minecraft port for Samsung's
Gear VR
, and, lo and behold, here it is. The Gear VR has in its turn been developed in collaboration with Oculus, but uses the screens of various Samsung handsets, instead of having its own display like the Rift.
Samsung has literally been giving its virtual reality headset away with the new
Galaxy S7
and
S7 edge
, so Microsoft might have taken note when deciding which VR platforms to port Minecraft for. You will, of course, need a Bluetooth controller to move the blocks around, as there is no other way on a VR gear, so it should be fun to watch someone playing the block-builder with the kinky goggles on.
The Minecraft version for Gear VR at the Oculus Store comes with all features of the Pocket Edition, and costs $6.99, but has seen numerous little enhancements that make it suitable for virtual reality sessions, as you can see below. You can also cross-play with the Pocket Edition on your mobile or the Windows 10 version.

Apparently, Samsung doesn't want the VR tech to be restricted to its high-end phone owners only, though, and is planning a standalone virtual reality headset as well, like the Rift,
HTC Vive
, or Micrososft's expensive
HoloLens
, which serves a tad different purpose. One of Samsung's R&D chiefs, Injong Rhee, has confirmed at the company's Developer Conference 2016 that it is working on a VR device that will feature positional tracking, but when will this one be released, is anyone's guess at the moment.