Microsoft's and Xiaomi's CEOs meet up in China – rumors ensue
21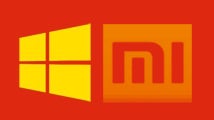 Microsoft's CEO Satya Nadella flew to China last week, for the first time since he's been heading the Redmond-based software giant. Supposedly, the main objective of Nadella's visit was to lay rest to security concerns the Chinese government has over the Windows OS – something, which prompted it to
raid Microsoft's Chinese offices
in an anti-trust campaign 2 months ago.
Rumors say that Nadella spent his time in China for a secret get-together with another interesting person – Xiaomi's CEO Lei Jun. Naturally, a meetup between these two figures instantly generates speculation about possible Xiaomi devices, powered by Microsoft's Windows Phone operating systems. Nothing official has been said on the matter, though.
If Microsoft was to lure Xiaomi into the Windows Phone ecosystem, that would be of great benefit to it – after all, "the Mi" has become the
leading smartphone vendor
in its home country, which is quite the large market, and is being praised as "the Apple of China". However, seeing as Xiaomi is a company that started as a developer for the custom MIUI Android ROM, and subsequently based all of its devices on MIUI's iOS-ish interface, it would be kind of awkward to see Xiaomi come out with a smartphone, whose home-screen is Metro-styled (pardon, Modern-Windows-8-styled).
Still, it is yet too early to say, whether such a collaboration would happen. For all we know – Jun may have declined the pitch, or the meeting could have been about something entirely different.
source:
GSM Insider
via
Into Mobile