Microsoft will release new WP7 developer tools, including CDMA updates
3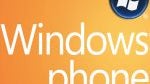 Windows Phone 7 owners and those still on the fence have been eagerly awaiting word on WP7's
copy/paste solution
. Well thanks to a little interview, we've got even more information to share. The folks at PPCGeeks got a chance to sit down with Microsoft's Brandon Watson during their live podcast. Watson offered the following insights:
"1. The Chevron WP7 Unlocker team was NOT paid for their services, and are being kept in contact (Unofficially) to help get input for the developers.
2. The update coming out late Thursday or Early Friday will be involving a new OS image, which will include Copy Paste Assistance for developers, and hints to a OS update in the coming month.
3. All apps on the market WILL get Copy and Paste, WITHOUT any updates made by the developer.
4. The new OS Image will include compatibility for CDMA, and CDMA is promised by the end of Quarter 2 of 2011.
5. The OS is looking to grab more devs in general and help them get back on track and interested in WP7's software."
The addition of CDMA compatibility will surely help their footing here in the U.S., but it might not be enough to recover. Despite the fanfare of its debut, WP7 still hasn't penetrated the market further than
Windows Mobile
.
As for the copy/paste solution, many are complaining that it should have been included from the beginning. But consider how few bugs have been found with the Windows Phone 7 OS; they've already managed to give an impressively stable first offering. And we're excited to see what's next.
source:
PPCGeeks