Microsoft wants you to trade-in your used iPhone 4/4s or Galaxy SII for a free Lumia 1020 or 1520
57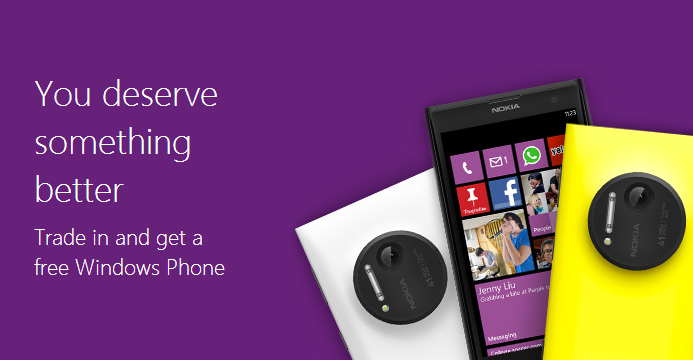 Microsoft has kicked up things to a whole new level this week, and in a pretty aggressive manner. Just 3 days ago, it offered customers up to $250 of Microsofot Store credit for their used smartphone or tablet, but that now seems to have been nothing more than a prelude to something even bigger. Already in effect, a new deal will see Microsoft buy out your used
iPhone 4
,
iPhone 4s
, or
Samsung Galaxy S II
, and swap it with either a
Nokia Lumia 1020
, or
Lumia 1520
.
Sounds a bit too good to be true? We thought so, too. Which is why we went looking for the fine print. Luckily, there is none, at least not in the typical sense. Eligible candidates still need to be based in the US/Puerto Rico, and you need to track down one of the still few Microsoft retail stores to take advantage of the deal. Since both these Lumia devices are exclusive to AT&T, you'll also need an existing or new 2-year commitment with Ma Bell. Lastly, your device obviously needs to be in a working condition, and the terms also require you to trade-in the original charger/accessories.
All of this sounds like quite the deal to us, especially if you've been on the lookout for a phablet, or you're intrigued by the massive 41-megapixel sensor on the Lumia 1020. If anything, this goes to show that Microsoft is as determined as ever, especially now that it caught a whiff of the competition. We're only hoping that Microsoft rationed well, and the Nokia deal is just the beginning. After all, this is a marathon, not a sprint.