Microsoft ups Surface RT production and retail presence, brings it to Best Buy and Staples today
9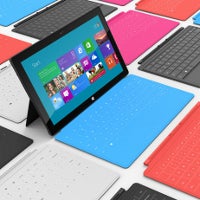 Microsoft's
Surface RT
has been hard to find and actually handle in a retail location before you pull the buy trigger. You could click the buy button online at Microsoft, or check the tablet out in one of its scarce retail locations across the country, but no major retail chain was carrying it, which has no doubt
affected sales negatively
.
Now Redmond is ready to break that trend, as it just upped its Surface RT production and distribution, with the ARM-based Windows slate arriving at
Best Buy
and Staples today for everyone to handle and try out before they make up their mind.
Microsoft
promises 100,000 apps in the Windows Store by February
, which would bode well for Surface RT owners, but at present the app situation is not pretty. Currently the Surface RT main advantages, besides the durable design, are the free Office suite supplied with each Surface, plus the the drivers for more than a million gadgets you can connect to the tablet, just like you would with any Windows machine.
Redmond also said that some of its holiday brick-and-mortar stores will be getting permanent afterwards, and rolling out to more countries next year. Initially, Microsoft didn't plan to enlarge the Surface retail presence before the second half of 2013, but sluggish demand in its current limited availability state might have changed the plans.