Microsoft promises 100,000 apps in the Windows 8 Store by February, adult-rated video games needn't apply
17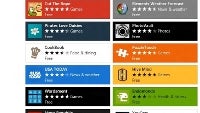 Microsoft's VP of sales and marketing Keith Lorizio said that Redmond realizes how important a strong app ecosystem is for gaining traction, and Microsoft will be agressively pursuing to populate the Windows 8 Store with 100,000 apps in the first three month after launch, i.e. around February.
By July, he said, we should have about 400 million Windows 8 devices roaming around, representing a healthy base for developers to monetize their app efforts.
Those apps, specifically tailored for Win 8's interface won't include video games rated Adult Only, apparently, just the way it is with such titles on consoles. The section 6.2 of Microsoft's Dev Center, states: "
Apps with a rating over PEGI 16, ESRB Mature, or a corresponding rating under other rating systems…are not allowed
".