Web traffic research reveals the Microsoft Surface isn't selling very well
39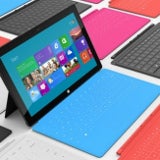 Research firm Chitika has come up with a new report that shows just how insignificant the sales of the Microsoft Surface RT have been, at least judging by the web traffic generated by the device.
Chitika has measured that for the period between November 12 and November 18, the Microsoft Surface RT has accounted for just 0.13% of all web traffic generated by tablets in the US. Now, on one hand, that sure is one very discouraging figure, but on the other, the device hasn't really been available for too long. The combined share of Google's Nexus 7 and Nexus 10, which stands at 0.91%, is currently much bigger, but it's really not much more significant if we look at the bigger picture. In comparison, the iPad is said to be responsible for 88% of all tablet web traffic in the US.
Of course, having in mind the short period observed by Chitika makes us think that the research might not be entirely trustworthy, but it's a fact that there's still a long road ahead of Google, let alone Microsoft in the tablet race. Who knows, maybe people are waiting for the Surface Pro?
source:
Chitika
via
AllThingsD