Microsoft unveils new line of Windows ads featuring "one experience for everything"
8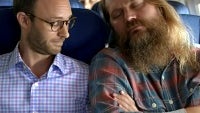 The holiday shopping season is ostensibly upon us, and that means our lists of who has been naughty and nice need to be up to date.
For a new holiday season, we have a new Windows, 8.1 and 8.1 RT. Windows Phone 8.1 in the works and we are sure that there will be more than a fair share of marketing around that debut in due time. For now, with the new operating system, that means new devices too, and Microsoft is showing off the new devices for the "new Windows."
The first ad brings us through the tablets, starting with the
Toshiba 8" Encore tablet
, introduced a couple months ago. This little fella is packing the full version of Windows 8.1, managed by an Intel Bay Trail Atom CPU. It has 32GB of microSD expandable storage and an 8MP camera. It also has a starting price of just $329.
Next up is an Intel Core equipped HP Split x2, with a larger screen and detachable keyboard and Beats Audio. It too runs the full version of Windows 8.1 and has a higher price tag to go along with it at $799. Then we see the venerable Surface 2 and its sweet design along with an adjustable kickstand. Prices for the Windows RT running
Surface 2
start at just $449 and its bigger brother, the
Surface Pro 2
with full Windows 8.1 starts at $899.
Then we see a rundown of the Dell XPS 18, an all-in-one PC with a detachable display to provide a large, but still manageable sized tablet for being on-the-go. It starts $999. Rounding things up is the new and cool
Nokia Lumia 2520
, running Windows 8.1 RT and just released on AT&T and Verizon. Both carriers offer the 2520 for $399 on a two-year agreement. Full retail is $499 and AT&T also offers the tablet on installments of $25 per month.
The other two ads are aimed at those who travel and those who count the beans at their place of work. The obsessive accountant finds value in the
ASUS Transformer Book T100
which starts at $349 (for 32GB, $399 for 64GB). It runs Windows 8.1 with the help of an Intel Atom CPU and weighs just over 2 pounds with the keyboard dock.
The traveler in the last ad finds himself to be the meat in a rather unsavory sandwich on a plane. Sporting his Dell Venue 8 Pro, running Window 8.1 and only $299, this tablet will keep you working and playing for the long haul.
The pricing is pretty aggressive for some of these nifty gadgets, are any of them on your nice or naughty list?
source:
Windows
(YouTube)