Microsoft to halt production of the Surface 3 in December
22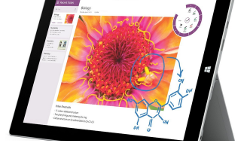 The days are numbered for the
Microsoft Surface 3
. The manufacturer has confirmed that it is stopping production of the tablet in December. It isn't clear whether there will be a successor to the tablet, and reportedly the software giant has been struggling to make a decision about whether to continue the product line.
The Surface 3 was originally launched in May 2015, and has not become as popular as the
Surface Pro 4
and the Surface Book. Still, we have seen
Microsoft discount the pair quite often
in order to generate sales. Considering that the Surface 3 really doesn't compete on the same field as the other two devices, when production ends at the end of the year we don't anticipate any change in Surface Pro 4 and Surface Book demand.
Microsoft is also having trouble keeping the Microsoft Band 2 wearable in stock. The device was first released last October, and we wouldn't be surprised to hear that the next iteration is already on the drawing board. Microsoft has recently added some new functionality to the Band 2, including
the ability to measure heart rate zones
for those who enjoy aerobic exercise. Additionally, an 'Explore' tile has been added, which allows hikers and cyclists to track their heart rate, elevation, the route they follow and more. Unless Microsoft decides to go the smartwatch route, a Band 3 seems like a no-brainer.
"Since launching Surface 3 over a year ago, we have seen strong demand and satisfaction amongst our customers. Inventory is now limited, and by the end of December 2016, we will no longer manufacture Surface 3 devices."-Microsoft
Returning to the Surface 3, eliminating the one consumer oriented Surface tablet could put more fuel on the fire when it comes to speculation about the long awaited, mythical Surface Phone. The handset has been rumored to be designed for the enterprise. If so, we'd agree with those expecting the device to skip on the high-end specs and concentrate on integration with the Surface Pro and Windows 10 powered PCs.
source:
ZDNet