Microsoft reports results, tellingly omits Windows Phone details
18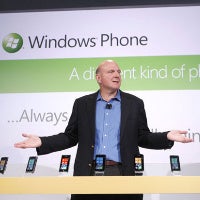 Microsoft reported glaring fiscal Q2 2012 results despite poor Windows sales and if you are an investor, you should be pretty happy. Revenue was $20.9 billion in Q2, up 5% on the year, and earnings per share beat estimates as office product sales went up and Bing loss narrowed.
If you happen to follow the phone industry, though, the silence about
Windows Phone sales
at the results announcement should speak volumes about how well the platform is doing.
Why so? Microsoft detailed pretty much everything in its report - Windows 7, Xbox 360, Kinect sales, even Bing's market share, but when it came to Windows Phone it deserved only a mention.
"A lot of excitement."
That's what Microsoft had to report about its phone platform, which obviously hasn't yet gotten enough traction for Redmond to brag about its sales.
Now, when previously Microsoft didn't have a phone maker of the scale of Nokia focus fully on its platform, there were more reasons to excuse Windows Phone not getting traction. With Nokia on the Windows Phone ship from this quarter, the clock has already started ticking.
We should note though, that in the Holiday quarter Nokia had its first Windows Phone devices only in limited markets. The next couple of quarters will be the ones that truly determine the faith of Windows Phone, so it's a bit too early to speak doom and gloom.
"We delivered solid financial results, even as we prepare for a launch year that will accelerate many of our key products and services,"
CEO Steve Ballmer summed up in a statement.
"Coming out of the Consumer Electronics Show, we're seeing very positive reviews for our new phones and PCs, and a strong response to our new Metro style design that will unify consumer experiences across our phones, PCs, tablets, and television in 2012."
What do you think about the future of Windows Phone, will it catch up to be the third major ecosystem in the mobile world?