Microsoft releases Photosynth app for iOS only, WP7 not yet mature enough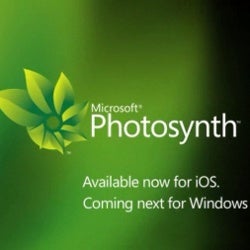 Microsoft is certainly capable of deliveringtop-notch software and that's exactly what you should expect from thePhotosynth app allowing you to stitch panoramic images in a coolthree-dimensional sort of way for "full-sphere panoramas." Giventhat the app is free, we can see no reason why it shouldn't becomewidely popular very soon. But weird as it sounds, the app has beenreleased only for iOS. That's right – no Windows Phone 7 version.

If you were wondering what's the reason for this, Blaise Aguera fromthe Photosynth team has the answer for you: WP7is not mature enough and doesn't allow for low-levelaccess to the system, required for building such an app at themoment. Do we sense unintentional friendly fire? Check out an extractof his statement below and judge for yourself:
Invalid image meta
"
I'm sure over the coming days andweeks we'll be answering, over and over, the "why didn't thisship first on Microsoft's own phone" question. Our approach tothe design of the Photosynth app hopefully provides some evidencethat we very much think of Windows Phone 7 as brethren andinspiration, not to mention proof that Microsoft can make beautifulthings. (Such a joy and a relief, after the previous generation ofWindows phones!) If we could have shipped first on these devices, wewould have. But the level of camera and low-level algorithmichacking needed to make Photosynth work meant that, if we wanted toget this out as quickly as possible— and we surely did— we neededto do so on a platform that provided the necessary low-level deviceaccess.
Windows Phone 7 doesn't yet allow this for apps. It willsoon.
It's worth keeping in mind that the first severalgenerations of iPhone device and OS wouldn't have allowed us tobuild this app either. For now, iPhone's platform maturity— andof course the large number of people with iPhones out there— meantthat it made sense for us to go for it.
At Bing we're always interested inreaching as many people as possible, which means we'll alwaysdevelop for multiple platforms. But over time, we'll be doing moreand more of our early innovation on the Windows Phone."
But if you thought that's going tochange soon, you might want to rethink as Microsoft has gone with thecareful, vague "coming next" wording when speaking about the WP7release of the app. We wouldn't be overly pessimistic and we're surethat Redmond is hard at work to deliver the next major Mango update,which will supposedly allow this, but rushing an app to iOS meanwhileand stating that its own platform is not yet mature enough leaves us slightly confused.
That's not to complain that we canenjoy a wonderful app at the moment. And when it comes to itsfunctionality, Photosynth also allows easy sharing of the createdpanoramic images to Facebook, Bing or Photosynth.net. Check it out atthe iTunes link below – it'll work on your iPhone 3Gs, iPhone 4,iPad 2, or iPod Touch.
source: iTunesvia WMPoweruser