Microsoft releases Android to Windows Phone transition pack, needs more apps
6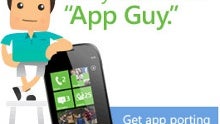 Microsoft's Windows Phone platform might have many features, but it lacks in arguably the most important part of a mobile platform –
apps
. Redmond knows well how hard it is to lure developer's into developing for your platform and that's why it released its mapping tool for iPhone software gurus to easily transition their code to WP7. But that didn't seem enough and now the company has added a similar
mapping tool for Android devs
helping them to leverage their code to Windows Phone.
Add to that a massive
90+ page white paper
on the process, and you should have all the tools necessary to transition your software magnum opus to WP. Well, along the way you could also learn one more language, which should turn you into a true ""polyglot" developer," Microsoft's JC Cimetiere notes. Cimetiere also argues the importance of coding for multiple platforms and the expanded horizons associated with the experience.
The Android-to-WP API mapping tool is open for feedback, meaning that you can submit your ideas and gripes, and Microsoft will listen. But porting an application is a timely and complicated process, so you might need more help. Microsoft has predicted that as well and has hired the "
App Guy
." This shorts-clad fellow does nothing but crawl developer forums to find your questions and address them. We leave to you to decide whether one app porting assistance guy will be enough to cover the needs of the whole Windows Phone dev community, but at least it's a start. Check out the download links below for the tools and feel free to let us know whether that would urge you into developing for Microsoft's platform.
Recommended Stories