Microsoft pays Sinofsky not to work at these companies
22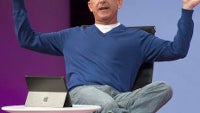 Microsoft is paying its former Windows and Surface team leader Steven Sinofsky a whopping
$14 million in exchange for his consent not to work for companies like Google, Apple and Facebook
.
The 'ban' on Sinofsky joining those companies extends until December 31, 2013, and as soon as next year starts, the experienced executive would be free to seek new employment. 'Ban' here is only a figurative way of explaining the situation. In reality, Sinofsky signed an agreement with Microsoft that would grant him a whopping
$14 million in stock options
. All of these spicy details were revealed in Microsoft's annual K-10 filing with the U.S. SEC.
Here are the 7 companies that Microsoft prohibited Sinofsky from joining:
Amazon
Apple
EMC
Facebook
Google
Oracle
VMWare
Of course, we've heard before about secret 'no poaching' agreements between the behemoths of Silicon Valley, but now we are seeing a top level executive getting paid to abstain from working there after his employment has been terminated.
source:
AllThingsD