Microsoft outs the Universal Foldable Keyboard, unleash your inner typist
11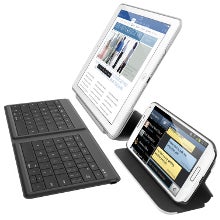 The tablet's market share demise is due as much to slower replacement rates and cannibalization from phablets, as to the fact that slates are simply not good for anything but casual media consumption. If you want to do anything more serious, you got to have a keyboard attached, and preferably a standing case, too. When you tack those to your tablet, however, it becomes as heavy as the best ultrabooks, so you might as well get the real thing, and people obviously do, judging from the ever-shrinking tablet market.
Enter Microsoft, whose foray into keyboards has always graced us with innovative, albeit usually pricey typing machines, that bet on ergonomics above else. The latest addition to Microsoft's typist stable is called the Universal Foldable Keyboard, and does exactly what it says on the tin, aiming to squeeze more productivity out of your phone or tablet, while still keeping the whole set mobile.
Designed to work with iPad, iPhone, Android gear and Windows tablets, the Universal Foldable Keyboard can have two devices paired to it simultaneously, and you can shuttle between them with a single tap. Despite having full-size keys, Microsoft's machine is very light and compact, plus, as the name implies, you can simply fold it in two and carry it with you without worrying about the space it will occupy. The folding gesture itself shuts its Bluetooth radio and disconnects it from the devices it has been paired to, while reconnecting with them requires you to simply open it again.
The Universal Foldable Keyboard is only 5mm thin, but Microsoft has fit enough juice in the battery to last three months on a charge, using the power-sipping Bluetooth 4.0 standard. In addition, the keyboard is also spillproof, with water-repellent keyset and fabric, making it ideal for those accidents that may happen on the road. The price? Well, the foldable gear will run you $99.95, and will be available from the usual retailer set as soon as this month.