Microsoft giving away WP7 handsets, training for free to woo webOS developers
5
The quick demise of HP's webOS hardware business might have shocked many, but Microsoft has been quick to react to the new realities by offering free Windows Phone 7 handsets and training to published webOS devs.
"To any published webOS [developers]," Microsoft's Brandon Watson said on Twitter as HP took the industry by surprise on Friday. "We'll give you what you need to be successful on Windows Phone, including free phones, dev tools, and training, etc."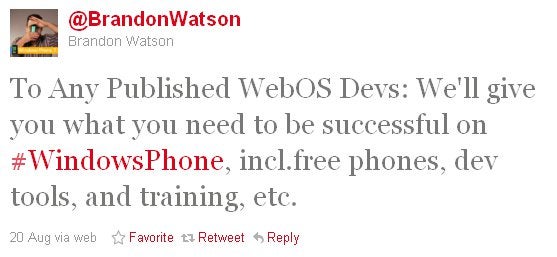 Over the weekend, plenty of responses seem to have come in from disappointed webOS programmers and Watson later reassured that everyone will get a personal response via Twitter. The Windows Phone platform itself hasn't exactly flourished with its market share going from "very small to very small," according to Redmond's own Steve Ballmer, but it's the Mango overhaul which is expected to really show whether the platform can indeed become the third horse in the current dual-horse race between iOS and Android.