Yet another patent suggests Microsoft is working on a foldable device
13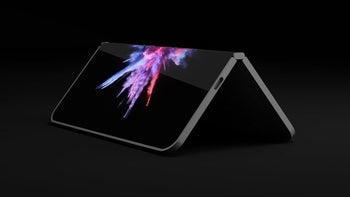 Microsoft Andromeda concept render by David Breyer
Microsoft hasn't released a single smartphone since February 2016 but this doesn't mean the company isn't working on mobile devices. Multiple reports and patents have suggested that the company will embrace the new
foldable smartphone
concept eventually. And now yet another
patent
backs this theory up.

Filed back in August of 2017 and published earlier today, the new patent describes a smartphone with two displays and a small hinge that allows it to be folded completely flat. The hinge mechanism also includes a lock which activates when the dedicated lock button is pressed. This allows the display to be held in one position permanently, which could be useful in certain situations. For example, one portion of the display could be used as a kickstand (visualized in the concept image above). Alternatively, users could choose to fold the device at a 90-degree angle, allowing the upper portion to be used for viewing and the lower area as a keyboard.
When the device isn't in use, it can be folded in half and locked in that position. Additionally, as
Microsoft
notes in the patent, it should be able to fit in the user's pocket.
As this is just another
patent
, there is no guarantee Microsoft will ever release such a device. But considering the number of filings, it appears the world's most valuable is at least researching the idea quite a bit. So there's certainly a chance such a product will eventually be announced.