More details on Microsoft's mobile comeback plans emerge, along with 'Centaurus' info
4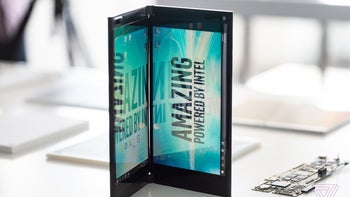 Intel Copper Harbor prototype previewing Microsoft's 'Centaurus' vision (via The Verge)
Those of you that remember how confident Microsoft was back in the day in the success of the
Windows Phone
platform probably understand why the Redmond-based tech giant remains hesitant about attempting any sort of a mobile comeback.

Of course, that doesn't mean the company isn't considering a number of ways to get back in the game and continue expanding the focus areas and use cases of the popular Surface product lineup.
Separately,
Windows Central reports
work on a "Centaurus" design may have started "about" a year ago, with the hope of an official announcement coming "in the fall of 2019." This "dual-screen 2-in-1" gadget sounds a lot like that
newly rumored direction of the Andromeda project
, but according to this publication's inside sources, Microsoft has different plans for the two equally ambitious programs.

Specifically, Andromeda could still be envisioned as a "pocketable dual-screen phone", but if this new info is accurate, Centaurus will be given priority in development and production, aiming to pave the way for Microsoft's eventual mobile market re-entry.

That's largely because the company is reportedly not ready to embrace Android just yet, planning to load Windows Core OS on Centaurus, and somehow convince developers to build Universal Windows Platform apps for Andromeda.
Windows Core OS is Microsoft's rumored "new modern version of Windows 10", so this "Centaurus" product is likely to not be that different from the
latest Surface Pro generation
. It's probably going to be smaller and easily foldable, with two extremely versatile displays, one of which will be able to seamlessly switch from a note-taking to a (somewhat) traditional keyboard and touchpad computing experience.

Windows Central describes Microsoft Centaurus as a "tablet, laptop, digital book, a bigger tablet", and everything in between, which we have to admit sounds exciting... and just a tad overambitious.
Recommended Stories