Microsoft explains how it designed the Windows 8 touch keyboard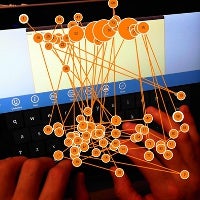 When it comes to tablets, we hear one complaint over and over again - they are better tailored for media consumption, but not for creating content. The hardware is there for most, so what's missing? Try typing a long email and you'd instantly understand that the touch keyboard is one key factor deterring the tablet from becoming a better content creation machine.
Microsoft heard all those complaints in Windows 8 and took the time to research and
meticulously design the touch keyboard
in its newest platform. Key size and ergonomics, adaptive layouts and predictive typing were all in Microsoft's research and now it has revealed just how it arrived at its current keyboard.
You'd notice the interesting pictures showing just where our thumbs feel most comfortable when holding a tablet in landscape mode, and also how our eyes move from the keyboard at first to what we type as we get used to the keyboard. This helped Microsoft keep the keys at a reasonable size, leaving enough space for you to see your actual typing output.
Also, the company tried to implement haptic feedback but found it distracted way too many users (count us in there), and finally went without it. What's interesting is that the keys at the center that are further away from your thumbs actually are aware of the angle you'll hit them with your finger, so that makes for even better usability. Check out the whole fascinating piece on the keyboard design at Microsoft's Building Windows 8 blog below.
source:
Building Windows 8