Microsoft cutting Surface RT prices, base model will soon be $349
11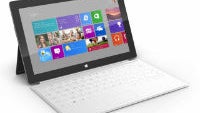 If you're one of the few people who has really been wanting to pick up a Microsoft Surface RT tablet, but you thought the price was a bit too high, you are in luck. Microsoft will soon be cutting the cost of the Surface RT tablets by $150 each. That means that the 32GB base model will soon be just $349. That would put the 64GB Surface RT at $449; and, as before it will cost you an extra $100 if you want a Touch Cover.
The price cut has been rumored, because there is an expectation that Microsoft is going to refresh the Surface lineup soon with the new power-efficient Haswell chipsets from Intel. There has also been a rumor that Microsoft is testing a Surface tablet powered by the Qualcomm
Snapdragon 800
.
The price cuts have been confirmed in a Staples flyer, and are going to go into effect this Sunday, July 14th.