Microsoft crowns the winners of the "Big App on Campus" contest
1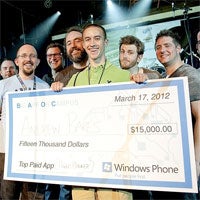 Not too long ago Microsoft looked to drum up some new, innovative apps for the Windows Phone Marketplace by initiating a challenge to intelligent, hard working students at 19 different schools around the country. The "Big App on Campus" contest was born, offering a $15,000 grand prize.
Well it has been four months and after many entries, Microsoft has crowned the winners.
The two grand prize winners, who just brought home $15,000 each, are Andrew Bares of the University of Arizona and Jeremiah Isaacson of the University of Wisconsin. Andrew is the creator of Power Planner. The app sells for $1.99 and is an organization app for students that helps them keep track of their schedules and their schoolwork. Jeremiah is the man behind Ninja Fruit. This free app is a play on the popular game Fruit Ninja, but in this game the player is a green lime seeking revenge on the human ninjas.
Two other developers managed to rake in $2,500 each by winning the People's Choice award. Chevon Christie of CUNY/Hunter College created ScanBizCards, which is an app that allows you to scan in and organize business cards. This $6.99 app is great for networking. Quinn Damerell of Purdue University also won a People's Choice award for his free Reddit app called Baconit.
In addition to the winners, all 10 finalists in the competition where flown to South by Southwest and treated to a private concert from four indie bands all courtesy of Microsoft.
A big congrats to all the winners. We can't wait to see what you come up with next.
source:
Windows Phone Blog