Microsoft Surface with Windows 8 Pro rolling off the assembly lines, coming soon
8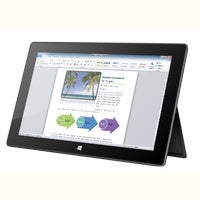 So, looks like it is all going as planned with the
Microsoft Surface Pro
. Panos Panay, who is in charge of the device's hardware, tweeted today that the tablet is now rolling off the assembly lines. He also confirmed that the Windows 8 variant of the Surface should be available for purchase within weeks.
But speaking of buying a Microsoft Surface with Windows
8 Pro
, keep in mind that the tablet won't come cheap.
As its maker confirmed
, the 64GB model will retail for $899, while the 128GB variant will set you back $100 extra.
So there you have it! The Microsoft Surface Pro is on its way, so if that's the tablet you've been expecting, there's not much waiting time left. Who's getting one? Let us know down in the comments!