Surface Pro to have half the battery life of the RT version
23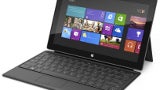 Well, you can't have both a full-fledged desktop operating system and terrific battery life, right? Right. And by the looks of it, Microsoft won't be trying to change that with its Surface tablet, powered by Windows 8 Pro.
According to some unofficial reports, the Surface Pro tablet is likely to offer about half the battery life of its RT counterpart. Of course, no one should have expected the Intel-powered Surface running full-featured Windows to be as power-efficient as the ARM-based Surface RT, so we guess there won't be too many disappointed. Besides, if you choose to pair your Surface Pro with a keyboard dock, you end up with a real laptop, and you know how good laptops are with regards to battery life. Still, it might not be a bad idea for Microsoft to take a page out of Asus's book here and comes up with a keyboard dock that also incorporates an additional battery.
That said, with the Surface RT sporting a battery life close to 8-10 hours on average, the Surface Pro may easily hover around the 4-5 hours mark. Not that bad, but not great either.
via:
TheNextWeb
Recommended Stories