Microsoft Surface Pro gets torn down, nearly impossible to repair
17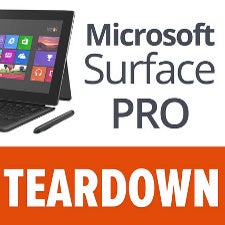 The
Microsoft Surface Pro
is finally here and it is the real deal, coming with a full-on Windows 8 supporting
legacy
apps, but there are a few important compromises that it comes with. As a tablet it has an unimpressive battery life, and as a laptop it can't quite stand well in your lap. If you can deal with these two, it seems to pay back with ultrabook-like performance.
And now we get to look inside the Surface Pro where there is the Intel Core processor and two fans keeping it cold. It's hard to open it up, the device is all glued tightly and you'd need a heat gun and a craftsmanship degree to separate the display.
Luckily, device surgeons from iFixit managed to disassemble it after a lot of prying. As a result you get to see all the device's internals. Also, the goal of this whole exercise is figuring out how hard or easy it is to repair the device.
Turns out, there are some bad news. The Surface Pro is a terrible device to repair. With a whopping 90 screws holding it together, an extremely clunky display assembly and a lot of adhesive, it's extremely hard to disassemble and repair the Pro. The device scored an abysmal 1 out of 10 for repairability, worse than the 9.7-inch iPad which by now held the lowest scores.
source:
iFixit