Microsoft Office said to be coming to Android and iOS in November
37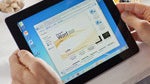 Remember the
leaked images
of Microsoft Office for the iPad we saw a few months ago? The ones that Microsoft
claimed were fakes
? We were suspicious about their denials at the time, and it turns out the only "fakers" may have been Microsoft's PR team. According to "a reliable source" speaking to BGR, Microsoft will be releasing tablet versions of Microsoft Office not just for the iPad, but for Android as well this November.
The November date presumably lines up with the launch of Windows 8 – Microsoft most likely plans to release tablet versions of its nearly ubiquitous office suite at a time when it ships for Windows 8 tablets (aka
Windows RT
). Frankly, this is a smart move all around. With tablets and smartphones
rapidly eating into computer sales
, Microsoft needs to transition Office (which has been a money cow for them for years) to the new mobile platforms, and they don't have the luxury of placing all of their software eggs into one OS-basket this time around. At the same time, they don't want to completely undercut Windows tablets before they can ship, so holding off on a release until the fall is a good strategic call.
BGR's source has reportedly seen the iOS version of Office first hand, and indicates that it is identical to the original leaked images, suggesting that those were the Real McCoy after all. The source also indicated that the loading screen said "Office for iOS" rather than "Office for iPad", raising the question of whether the suite will be made available on phones and iPod Touch devices as well as tablets.
Unfortunately we may have to wait until November to learn that. Or at least until the next leak…
source:
BGR