Microsoft Lumia 550 hands-on
6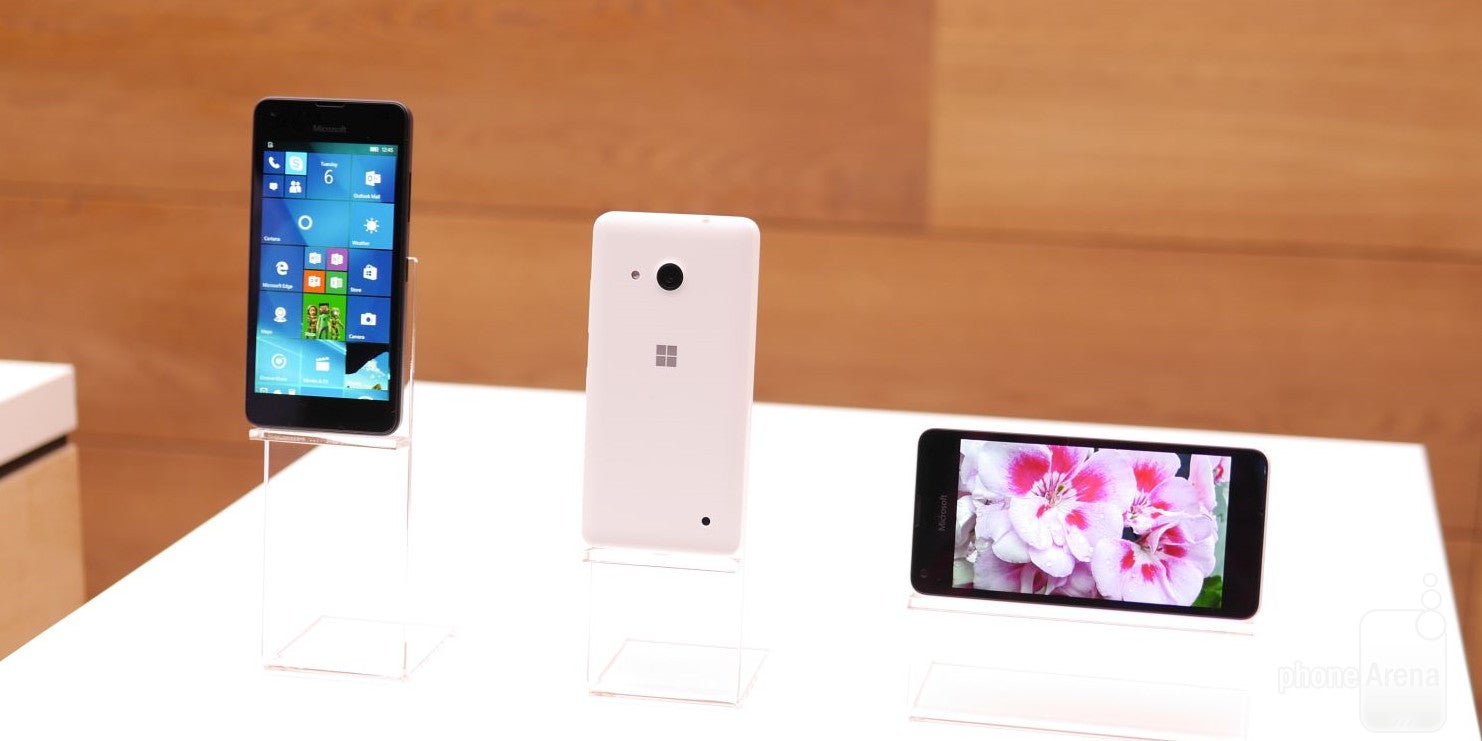 After announcing its overdue, but satisfying flagships — the Lumia 950 and Lumia 950 XL — Microsoft also briefly mentioned the brand-new Lumia 550. It's an entry-level handset, humble in specs, but easy on the wallet – it's priced at $139 outright. Can this phone be a viable option for anyone looking for an affordable smartphone? We had some time with the handset for first impressions – let's check it out!
Design
No surprise here, as the 550 oozes that typical Lumia design. Its face is dominated by the black display panel, adorned by the Microsoft logo and frontal camera above it. No capacitive buttons can be found under the screen, as this Lumia employs virtual buttons, so the device's front is almost entirely black when the display is off – quite plain-looking. The back is, of course, covered by the removable, wrap-around plastic cover, which we're used to seeing on Lumias, complete with the camera-housing hill near the top, a LED flash, and the Windows logo in the center. As for hardware buttons – it has the usual power key and volume rocker. Sorry, the shutter key didn't make it this far down the Lumia line.
In terms of design, sure, it's a plain-looking handset, but we can't fault it for that – at a price of $140 for a Windows 10-toting smartphone, it is expected that the best we could home for is a functional and comfortable design. And the Lumia 550 delivers there – it sits well in the hand, and we don't feel like the phone invites us to clumsily drop it, or have it slip out of our hand.
Display
The Lumia 550 rocks a 4.7" LCD display with a 720 x 1280 pixel resolution, which all results in a 314 ppi. That's quite impressive, considering the price range. Of course, in terms of screen-to-body ratio, it doesn't really wow us – at 65.4%, expect to see a lot of bezel, hugging the screen around all sides. It's still protected by Gorilla Glass 3, which is nice.
So, the display is quite crisp, and we enjoy that. As far as color reproduction goes – we do want to say that it looked a bit cold, though, we will reserve judgment for when we have more time with the device in a calmer environment.
Processor and memory
As can be expected – corners had to be cut, and the device's hardware definitely suffered. Equipped with the bare minimum, the Lumia 550 has a 1.1 GHz, quad-core, Qualcomm Snapdragon 210 under its hood, paired with an Adreno 304 GPU, and 1 GB of RAM. It's certainly not the best, but it can accomplish basic tasks well, thanks to Windows' famed effectiveness on underpowered hardware. Still, don't expect to push a lot of apps and games on this device.
And while on the topic having lots of apps and games on the smartphone – it only comes with 8 GB of internal storage. So, expanding it via microSD is definitely a must and, thankfully – supported. You can, theoretically, stick up to a 200 GB microSD card in the Lumia 550, and it will work with it.
Interface and functionality
Windows is back with full force, updating Cortana, and bringing updates to the settings menu, calendar apps, Microsoft Edge to replace Explorer, and the office suite apps. Oh, and one more thing – actual wallpapers! Once you wake the Lumia 550 up, you will be greeted by the typical Metro-style interface (also called Modern, Universal, Windows – pick one). What this is is that apps are not represented by icons, as usual, but actual, resizable, freely-arrangable tiles. Some of these can be "live tiles", which means they will scroll through the latest notification from the app they represent – handy in theory, but it hasn't wowed us with any practical use, once some long notifications start rolling by, or when an important message gets camouflaged under an irrelevant one.
That said, the complete freedom of customization, the simplicity of the home screen, and the fresh take on an interface are not to be overlooked. Everything is big, thoroughly explained, and easy to read. And, thankfully, thanks to the Settings menu redesign – we don't get lost when visiting it any more.
Camera
The Lumia 550 has a 5 MP snapper with an F2.4 aperture for a main cam. Nothing mind-blowing, sure, but we could say that the photos it takes are adequate, especially when considering the price-tag. Of course, favorable lighting is a must here, and we will have to put it to the test when we have more time to play with it thoroughly, but at first sight – we can't say that the camera has just been stuck there as an adornment. Its capable of taking 720p videos at 30 FPS, and supports continuous autofocus.
The front camera is a 2 MP snapper – not the most flattering selfie-taker, and we assume you'd rather only use it for video calls.
Pricing, release date, and expectations
The Lumia 550 is coming some time in November, priced at $139, as we mentioned already. This is the cheapest Windows 10 smartphone out there, and we'd say its a good pick for anyone looking to either dip their toes in some Microsoft functionality, or someone looking for a simple, straightforward, and cheap handset, that still brings about smartphone connectivity options.