Microsoft CEO Nadella says that there will be more Windows Phones coming in the future
99+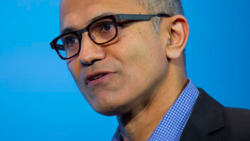 A few days ago, we pointed out how
the latest version of Microsoft's 10Q document filed with the SEC
appeared to call "time of death" for Windows Phone. In a section of the document listing current business activities, Windows Phone no longer appeared after it had showed up in the previous quarter's 10Q. With a microscopic market share and no new Microsoft branded Lumia phones released since 2015, it has been left to third party manufacturers like HP and Alcatel to keep Windows 10 Mobile alive.
In a published interview with MarketPlace, Microsoft CEO Satya Nardella says that Microsoft will return to the hardware business when it comes to smartphones. But he added that these would be devices that break the mold, like the Surface line did. (Hmm, Surface Phone anybody?). The executive explained that Microsoft is still in the smartphone business with its iOS and Android apps. And of course, there is that portfolio of Android patents that brings home the bacon.
When it comes to hardware, Nadella makes it clear that Microsoft is looking for something new. "So in some sense when you say will we'll (sic) make more phones, I'm sure we'll make more phones, but they may not look like phones that are there today," the CEO said.
"We make phones today, we have OEMs like HP making phones and others and we picked a very specific area to focus on which is management, security, and this one particular feature that we have called Continuum, which is a phone that can even be a desktop...and at this point, we're making sure that all of our software is available on iOS and Android and it's first class, and we're looking for what's the next change in form and function. What we've done with Surface is a good example. No one before us thought of 2-in-1s and we created that category and made it a successful category to the point where there are more 2-in-1s coming. And that's what we want to do."-Satya Nadella, CEO, Microsoft
There has been speculation about an ARM powered Surface Phone that would run apps using the full version of Windows 10, but this is something that might not be ready until 2020 at the earliest. Based on Nadella's comments, perhaps we shouldn't say that Windows Phone is dead at all but is merely in suspended animation awaiting a new design and new features to be brought back to life.
source:
MarketPlace
via
MSPoweruser.com