Microsoft's SEC filing confirms that Windows Phone is dead
54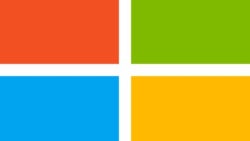 Microsoft's latest quarterly filing with the SEC confirms what everyone has already known. Windows Phone is dead. The filing, in which Microsoft lists investments in products that it will be making in the future, included Windows Phone in the fiscal Q2 report. The new report filed for the fiscal third quarter has no mention of Windows Phone. And if you want to tell us that Microsoft is focused on Windows 10 Mobile, the latter wasn't included in the report filed with the SEC just three months back when Windows Phone was listed. So yeah, we've heard that punchline.
Microsoft knows that Windows Phone was a failure and has resorted to
selling a special Microsoft edition of the Samsung Galaxy S8
. Don't feel bad for Microsoft. After all,
the company makes more money every year licensing their Android related patent
s than it ever did selling Windows Phone handsets.
And that leaves us with the mythical Surface Phone. Sure, Microsoft might someday jump back into the smartphone business, but we wouldn't expect it to take place so soon. It has a good thing going right now collecting on those Android patents and on the success of the Surface Pro tablet. Not throwing good money after bad is the sign of a strong company. And despite the Windows Phone failure, Microsoft didn't get where it is today by repeating mistakes.
You can check out the 10Q filing made with the SEC by clicking on the sourcelink below.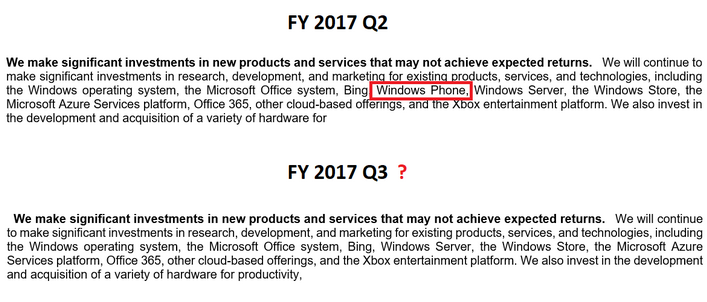 Windows Phone was listed in the previous quarterly 10Q (on top) as a product line that Microsoft is making investments in. The latest 10Q doesn't include Windows Phone
source:
Microsoft
via
MSPoweruser