HP planning to get rid of Leo Apotheker, headhunting ex-eBay head Meg Whitman?
4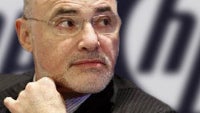 HP's chief executive Leo Apotheker might be in for a surprise from HP's board members, who are plotting to
replace the ex-SAP CEO for former eBay woman-in-charge Meg Whitman
, according to board members seeking anonymity quoted by the New York Times.
It's been less than a year since Apotheker took over Hewlett-Packard and the company's financials have tumbled 47% with last quarter bringing earth shattering announcements about HP (quitting) spinning-off its PC business, ditching the HP TouchPad and acquiring British Autonomy for $11.7 billion. The latter raised eyebrows as analysts agreed that HP is overpaying significantly.
Apotheker's background in enterprise software has been clear from the get-go, but it was only last month that HP's strategy seemed to have finally shaped and investors didn't like what they saw. Under Apotheker, the company is moving to a
SAP-like enterprise business model
, turning its back on a huge retail PC business, which doesn't lie in the exact expertise area of the current CEO. He was also frowned upon for not understanding and pushing Palm and webOS integration into the HP model.

HP's share value increased by 7% after talks surfaced about Apotheker getting sacked.
Whitman
, on the other hand, is on HP's board and is said to have the communication skills and understanding of customers needed to run the company. She doesn't have experience running a business as huge and complex as HP. HP is seen as the largest tech company by some measures with revenues reaching $126 billion in the last fiscal year. Whitman was also on John McCain's team when he ran for presidency and she was expected to head the treasure as its secretary, had McCain won the election.
But even if the executive shuffle works out, HP is at a danger of giving an impression of
instability
as it is changing senior executive often. In 2010, Mark Hurd resigned over mysterious sexual harassment allegations from former R-rated movies actress Jodie Fisher. Hurd managed to pull a great turn-around at HP with aggressive cost cutting after landing the CEO position in 2005.

HP's share value has declined 47% under Apotheker.