MeeGo's state of development was an "oh sh*t" moment for Nokia
10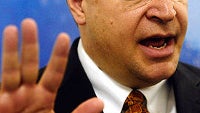 If you've ever wondered about what happens behind the scenes in Nokia and how decisions about changing the industry are being taken, a seven-page narrative posted by Bloomberg Businessweek gives just that inside look to feed your curiosity. What happened with MeeGo and how it went from being Nokia's poster child for the future to becoming an
"oh sh*t" moment
for Espoo's chief executive Stephen Elop? It's been only a couple of months since Elop took over the CEO position and while initially his "confidence and excitement" about MeeGo were obvious, a reality check with two dozen "influential employees" working on the new platform showed that only three devices running MeeGo could be released by 2014:
"Before the first interview, Elop drew out what he knew about the plans for MeeGo on a whiteboard, with a different color marker for the products being developed, their target date for introduction, and the current levels of bugs in each product. Soon the whiteboard was filled with color, and the news was not good: At its current pace,
Nokia was on track to introduce only three MeeGo-driven models
before 2014-far too slow to keep the company in the game."
Nokia's Chief Development Officer Kai Oistämö shared the atmosphere of a phone conversation he had with Elop shortly after realizing efforts on the MeeGo front were lagging:
"
It was truly an oh-s--t moment
-and really, really painful to realize where we were," says Oistämö. Months later, Oistämö still struggles to hold back tears. "MeeGo had been the collective hope of the company," he says, "and we'd come to the conclusion that the emperor had no clothes. It's not a nice thing."
But while the need for change was obvious and this explains how it all went, Bloomberg's inside view shares one other very important detail – Elop's decision to announce Nokia's adoption of Windows Phone as its main platform
was pre-determined
. And it's that exact preliminary announcement that shook Symbian sales and is confusing analysts as after all it's that exact "burning platform" that was to determine Espoo's success in the coming year of transition. Bloomberg writes that
Elop was challenged by expectations
to announce the future of the company on February 11th and was desperately looking for a solution hours before his industry-changing speech about going with WP. He seems to have decided to give a definite answer for Nokia's future even before meeting with Microsoft's Steve Ballmer and Google's Eric Schmidt:
"Elop stated the case simply: Nokia would either decide to stay with its own software or partner with Android or Microsoft,
but it wouldn't delay
. "I'm going to announce the decision at the analyst meeting in early February," he said. Sticking with MeeGo would avoid the need for a massive strategic and cultural shock, but going with the best offer could help Nokia's bottom line and gain it a fresh start in smartphones. "It was classic Stephen," says Myerson, who worked for Elop at Microsoft. "His superpower isn't his great intuitive judgment. It's his amazing ability to create a transparent, fast process that reasonable people can feel good about."
So while this doesn't give an answer to the growing number of
conspiracy theories
about Elop purposefully pulling Nokia down, it does shed some new light on how the radical decision to write off Symbian and announce a new path for the company a year before Espoo was ready to step on that path was taken.
source:
Bloomberg
via
Engadget